Island Turns and Tours
2nd Edition in production - now accepting advance orders
A Guide to Backcountry Snowsports in the Vancouver Island Alps
Island Turns & Tours - 2nd edition (2024)
A Guide to Backcountry Snowsports in the Vancouver Island Alps
by Philip Stone
This new edition is printed in full colour with updated and new topographical maps, hundreds of photographs including dozens of aerial images to better illustrate the ski terrain and many more backcountry ski destinations.
Turns & Tours covers backcountry skiing, snowboarding and snowshoeing with ideas for day trips, weekend tours and longer ski traverses. This guide is also an invaluable resource for hikers and climbers with useful information about snow travel, its challenges and the characteristics of the Island snowpack.
$66.95
plus 5% GST
---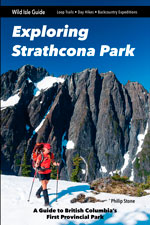 Ordering info here>.
For more information click here>