Alpine Flowers of Vancouver Island
map-style field guide to the wildflowers of the Island Alps
Alpine Flowers of Vancouver Island
Map-Style Field Guide
- Hans Roemer.

This light, water-proof and tear-proof, fold out colour photo identification pamphlet is unique in being specifically about Vancouver Island's alpine plants.
Hans Roemer, PhD, brings to this publication more than 35 years of professional experience as a Botanist/Ecologist with the BC Government and as a consultant. Also a mountaineer, Hans' succinct text about the usual habitats of these 86 species is distilled from his years of experience as a field botanist in our Island Alps.
For more information: www.islandalpineflowers.ca

$8.95 + shipping & packaging
plus 5% GST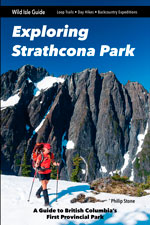 Ordering info here>.
For more information click here>