As my fourth season in Antarctica drew near and I started to gather my photography kit together I realized I was feeling like a bit of a change was due. I made the decision to leave the amazing but heavy 200-500mm f5.6 at home and pack the AF-S 80-400mm G instead. But that wasn't going to add anything new to my creative options. As chance would have it a local photographer posted his AF Fisheye-Nikkor 16mm f/2.8D for sale at a fair price for used with promises it was in mint condition. Now we were talking!
Deal done, I barely had 15 minutes to snap a few test images in the fading December light that evening, but that was enough to play around in Lightroom, download the Imadio HemiFisheye plugin and find a little corner in my camera bag to pack it. I'm excited to see what opportunities this little gem can take advantage of amongst the icebergs, islands and channels of the Antarctic Peninsula. I can already envisage the ship's bow steaming down Lemaire Channel through that 180˚ field of view!
With a few hours to kill at Vancouver International Airport (YVR) on the start of my journey south I had my eye on a suitable subject for a fisheye, (and really the only one at an airport you can photograph without attracting unwanted attention) Bill Reid's iconic sculpture: Spirit of Haida Gwaii.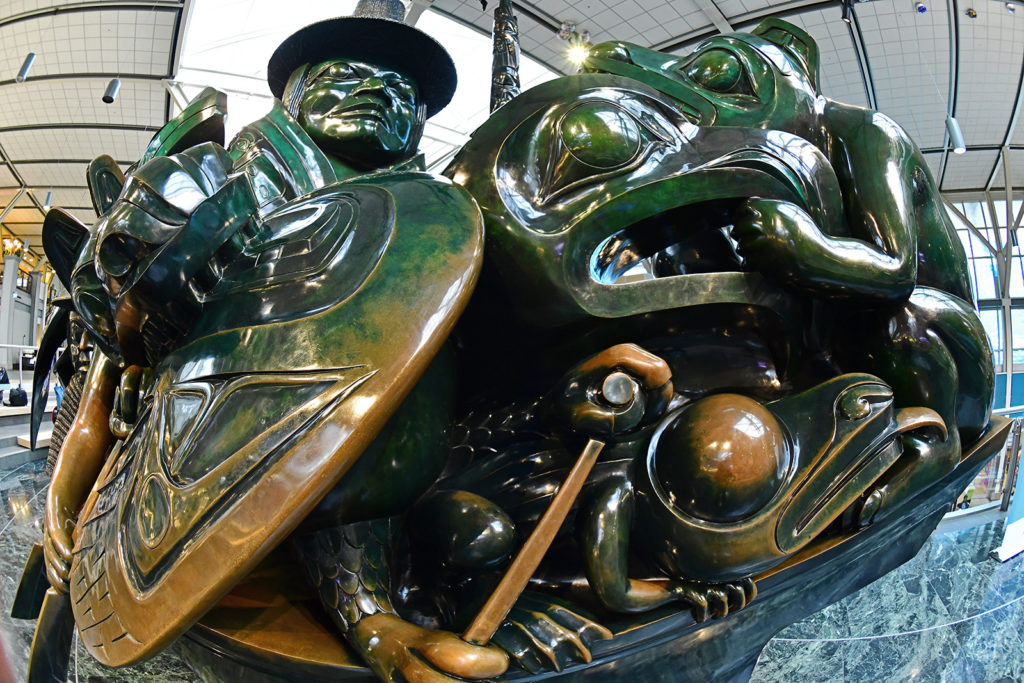 This first teaser was fun! Moving around the sculpture (being careful not to bump the front element) the various elements morphed through all manner of perspective. I was pleasantly surprised to find that even in such a busy public place, with such a wide field of view, I could easily frame the artwork in part or whole without catching random passersby in the background.
Running an image through Imadio's HemiFisheye Lightroom plugin yielded a pleasing 'correction'. I use parentheses because there's still ample distortion and as there is no user interface, you simply select the plugin on export and get what it gives you, it's not so much an act of correction as one of faith. Still I prefer the result from the plugin, the face and hat of the man and the frog's comb are noticeably more erect and visible in the frame after the correction, the eagle's wing also has a more elegant curve.
I did take some closer detail images and pixel-peeped but the light was very low, with shutter speeds around 1/6 & 1/8 of a second and I could see clear variation between the image sharpness just from camera shake alone so I'll reserve assessing sharpness for a subject with more light and faster shutter speeds.